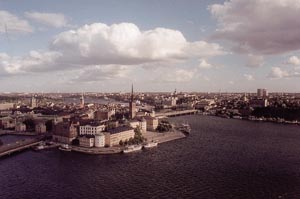 STOCKHOLM....city of water
Stockholm is the ideal weekend trip from London; Sweden could take months. The first thing that struck us was how much it reminded us of Canada.
The landscape is very similar and the people couldn't be friendlier. For the cheap digs, check out some of Stockholm's youth hostels which are in boats and old prisons. For something a little more upscale try the Quality Inn in Nacka, just a few minutes outside the city centre.
We were really amazed by the amount of things to do in Stockholm and the history there. Ok, we knew the Nobel Prizes were awarded there, but beyond that we hadn't heard a thing about the city. In fact, we only went because the flight was incredibly cheap. Once we got there we discovered that they have a royal family, a strong tradition of preserving nature (check out the archipelago), lots of viking stories and more.
Also try and fit a day trip in somewhere. We only had time for one to Nyanshamen -- one hour south of Stockholm -- but it was well worth it. A friend guided us around a nature trail that took about 3 hours to walk. We were on the water nearly the whole time and it was beautiful. You really felt like you were miles away from it all.
Stockholm's Top Ten
10. Visit the city hall and its amazing golden room – covered in thousands of golden tiles!!
9. Walk through the 12th century cathedral and admire its lacy spire.
8. Take a tour of the old town and peek in all the shops.
7. Eat in one of Stockholm's 1500 restaurants.
6. Visit the museums and art galleries.
5. Climb up the tower, beside the city hall, for the best view.
4. Take a trip to the archipelago and its 25,000 islands.
3. Do a tour of the canals.
2. Just walk around the city, see what you can discover on your own.
1. Eat some waffles covered in yummy sauce, a traditional Swedish dish that you will never forget!!