The idea of jetting off to Scotland for a long weekend came about mostly because Andrew had heard of a Clan Grant reunion going on near Inverness and wanted to check it out. As it turned out, we were too late to register for a lot of the activities but we spent a day watching Grants from all over the world strut their stuff in the highland games and then carried on to Inverness, down past Loch Ness to Glasgow where we caught a flight back to London.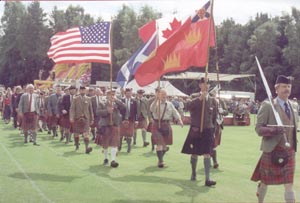 A shot from the Clan Grant reunion and the opening ceremonies.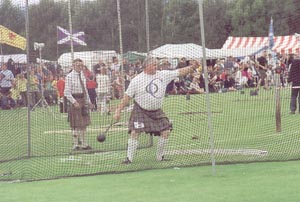 Here is one of the events from the Grant Highland Games
The Highlands were like a cross between Cape Breton and the Rockies – talk about beautiful!! It was really hard to keep your eyes on the road after a while because all you wanted to do was look out the window. We have both decided that we have to go back for at least another week. Perhaps just to stay at a B&B and rent bikes or hike for a few days.
The typical sights, Glasgow, Loch Ness and Inverness were nice but what impressed us the most were the little things we found off the beaten path. Lots of cute little shops, historic forts and sleepy towns. We even came across Grant Castle and walked around, watching the rabbits scatter across the lawn. We would thoroughly recommend Urquhart Castle as well and Fort George if you're into history.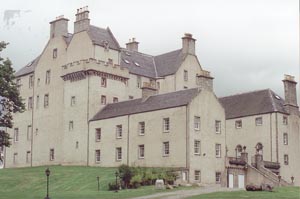 This is Grant Castle, just a few minutes outside of Grantown on Spey, Scotland.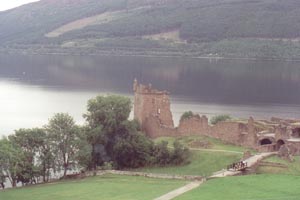 Urquhart Castle – right on the shores of Loch Ness and perhaps one of the most picturesque castles around.