La France...our favourite places in this wonderful country!
Let's face it, France is a great country. After all, who can argue with a place that gives the world great wine, mouthwatering food and beautiful views no matter where you go? But when it comes to writing a tourists' guide to France a lot has already been said. If you want to go to Paris or the French Rivera you probably already know a lot about it. And if you don't you can easily find out what you want to know on-line or in guide books. That's why we've decided to tell you about a few places you might not normally take the time to visit.
Aix-En-Provence
About half an hour to the north of Marseille is the town of Aix-en-Provence. Here's yet another town that is much-talked about but overlooked by many travellers. It's well known for the large amount of university students that come to study here each year, but fun for people of all ages. The first thing you'll notice here are all the fountains - they're down every street and on every corner, most of them covered in moss. You can hardly go a block without hearing the sound of running water. The other great thing about Aix is its shopping. It's got a great mix of shops and markets to keep you busy all day. Even if you're not the shopping type everyone has to get a few souvenirs sooner or later and here's a place you can do it without getting too cheesy. And, like any good French town, Aix has lots of open-air cafes so you can do your fair share of people-watching.
If you go to Aix, we recommend the tunisien restaurant, "La Sofra" (11, petite rue saint jean) where you'll get lots of friendly service and the best couscous of your life! As for a hotel, we stayed in the two-star Saint Christophe (2, avenue Victor Hugo, tél 04 42 26 01 24). It was very clean, comfortable and just a short walk from the town centre.
You're unlikely to discover this little nook unless someone recommends it; which is surprising since it lies just to the east of Nice and only a twenty minute walk from Monaco. If you're looking for sun and fun without the crowds this is the place to be; pure relaxation.
Take any slow train from the main station, Nice-Ville, and in about 15 minutes you'll find yourself in Cap d'Ail. Now you face the toughest decision you'll ever have to make in this town. You can either walk fifteen minutes uphill to the town centre and get a hotel with a view of the Mediterranean Sea or walk five minutes to your left and stay in a youth hostel on the seafront. You won't go wrong either way.
If you chose the hotel route you might try the Hotel Miramar (126, avenue de 3 Septembre). It's not fancy, but it's clean and fairly cheap. There are also several similar hotels right around there, so you'll have lots of choice. If you go for the youth hostel -- truly one of the most spectacular I've ever seen -- you'll be staying in a white mansion just a few feet from the shore. It's called the International Relais de la Jeunesse and once darkness falls your hosts cook up a fabulous meal for rock-bottom prices. It's also a short walk from the nearest beach.
Besides lounging on beaches and gazing at sunsets, the other thing to do in Cap d'Ail is take in its seaside walk. The sidewalk runs all the way to Monaco with lots of little places to explore along the way and man-made platforms that extend out into the sea - talk about a great picnic site. Make sure your bring your camera as you're sure to get lots of prime shots.
And if you're more the hiking type, trails starting from the town centre will take you up into the hills for a day. You can grab your provisions at the local Spar supermarket on the main street and enjoy your sandwich with a view.
Lille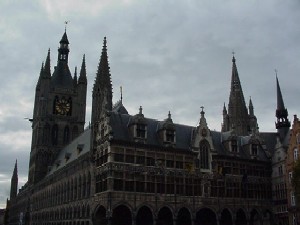 Unlike Aix and Cap d'Ail, Lille is in the North of France. It's small (175,000 people) but nevertheless a fun city with lots of great bars (try les 3 brasseurs, right across from the Gare Lille Flandres) and if you're a history buff it's a good base for exploring many war sites. You're only a couple hours drive from Vimy, Ypres, Arras and many others.
Plus, Lille itself has some beautiful museums. Try the Musée des Beaux-Arts (place de la république) with its collection of French and Flemish art. There's also the Vielle Bourse (old stock exchange) which hosts flower shows and book markets, and the 14th to 19th century Eglise St-Maurice.
As for a place to stay, we recommend Le Relais Lille Métropole (340, avenue de la Marne, tél 03 20 89 23 23). It's on the edge of the town, in a business park, but very quiet and close to the tram line. And the staff were very friendly and gave us lots of great tips on where to go and what to see.